Facilities
Proteomics
The Proteomics platform was installed at the IPBC in 2014 thanks to funding from LabEx DYNAMO and EquipEx CACSICE. Its equipment and know-how are available to the scientific community of the two consortia. 
The objectives of the platform are :
To advise researchers on the techniques available in the platform based on their projects
To analyse samples from their preparation to the exploitation of the results
To develop new analytical techniques as a function of researchers' needs (e.g. label free quantifiacation)
To train researchers in sample preparation, data analysis and exploitation
The Proteomics platform can function as a service or in collaboration mode as a function of researchers' preferences.
Equipment
The Proteomics platform is equipped with:
A tandem high resolution mass spectrometer (Q Exactive Thermoscientific) coupled with high-performance nano-liquid chromatography  (Nano East 100 Thermoscientific)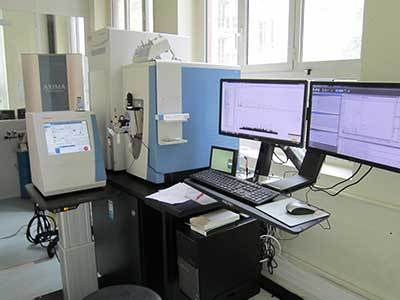 A MALDI-TOF/TOF mass-spectrometer (Axima Performance Shimadzu)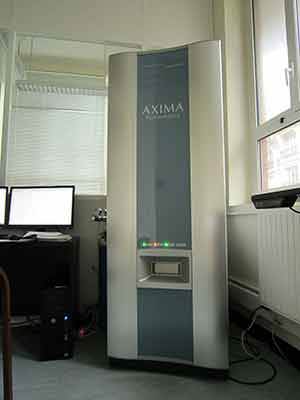 A liquid chromatography apparatus combining preparative, separation and analytical chromatography, equipped with auv detector and fraction collector (Shimadzu)
Analysis
The Proteomics platform proposes different types of services for sample preparation and analysis:
In-gel digestion of sample (spot or band)
Digestion of sample in solution
Purification of peptides (C18 column)
Identification of purified proteins  (simple peptide mixture)
Identification of proteins in a complex mixture (following chromatographic separation)
Measurement of mass of intact proteins (in solution)
Quantitative proteomics (label free techniques)
Protocols
Protocols are provided, but contact with the Proteomics platform is recommended before any sample preparation is undertaken
A reservation schedule for the MALDI-TOF is available on line for trained personnel at the IBPC at https://resa-equipement.ibpc.fr/.
For all external requests for analysis or training, please contact hamon@ibpc.fr.
Contact :
Scientists in charge :
Stéphane Lemaire
(DR CNRS – UMR8226)
Christophe Marchand
(IR CNRS - UMR8226)
Platform engineers :
Marion Hamon
(IE CNRS - FRC550)